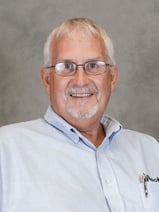 ABOUT OUR PRESENTER:
Dr. Max Hawkins, Alltech Mycotoxin and Harvest Expert
Dr. Max Hawkins joined Alltech in October 2011. His current focus is working with the Alltech Mycotoxin Management team by providing technical support directly to customers and sales staff to improve livestock health and performance. He provides the livestock industry with up-to-date information on global mycotoxin risk. In addition, he also provides support to the Alltech Feed Division and to beef and swine groups.
Hawkins received his bachelor's degree from Western Illinois University and his master's and doctoral degrees from the University of Tennessee. While completing his studies at the University of Tennessee, he conducted research on feeder cattle evaluation and osteochondrosis in swine. He also coached the livestock judging team and taught various livestock production classes.
Hawkins taught animal science at Morehead State University and led a land development project in conjunction with mining companies in Eastern Kentucky. He later joined the staff at California Polytechnic State University, where he coached the livestock judging team and taught animal nutrition and production classes. In addition, he became the director of genetic outreach for the National Purebred Swine Registry, directing the field staff and working with producers on genetic and performance programs.
Hawkins served as a technical consultant for Continental Grains Wayne Feed Division, providing nutritional support and formulations for swine producers throughout the central United States. He later joined Hubbard Feeds in the same capacity. He also worked with Micron Bio-Systems, providing sales and technical support for mycotoxin management, forage inoculants and probiotics.
Hawkins was raised in Illinois on a grain and livestock farm. When not working, he enjoys spending time with his wife, children and grandchildren.