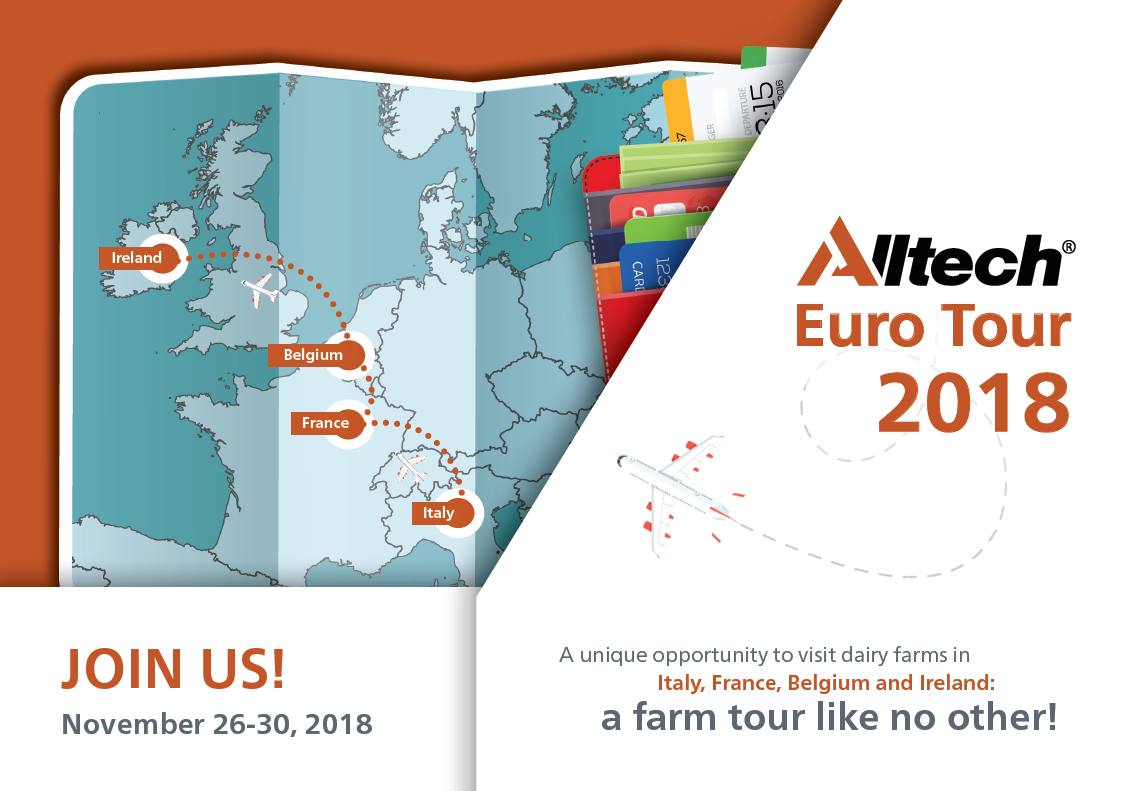 Alltech Euro Tour 2018


Join a group of 130 farmers from around Europe on a dairy farm tour, traveling to four countries in five days!
The tour provides a unique opportunity to step onto dairy farms in Italy, France, Belgium and Ireland. You will have a chance to meet the host farmers, learn about the systems they have in place and hear first-hand about their own experiences.
Taking a step away from your own farm for few days to see what approaches and new innovations are driving performance on other farms, can be a hugely valuable experience. The tour provides an opportunity to meet other like-minded farmers to discuss, learn and share ideas about the opportunities and challenges facing modern dairy production.
Throughout the journey you will have a chance to unwind and enjoy a host of social, cultural and sightseeing delights along the way!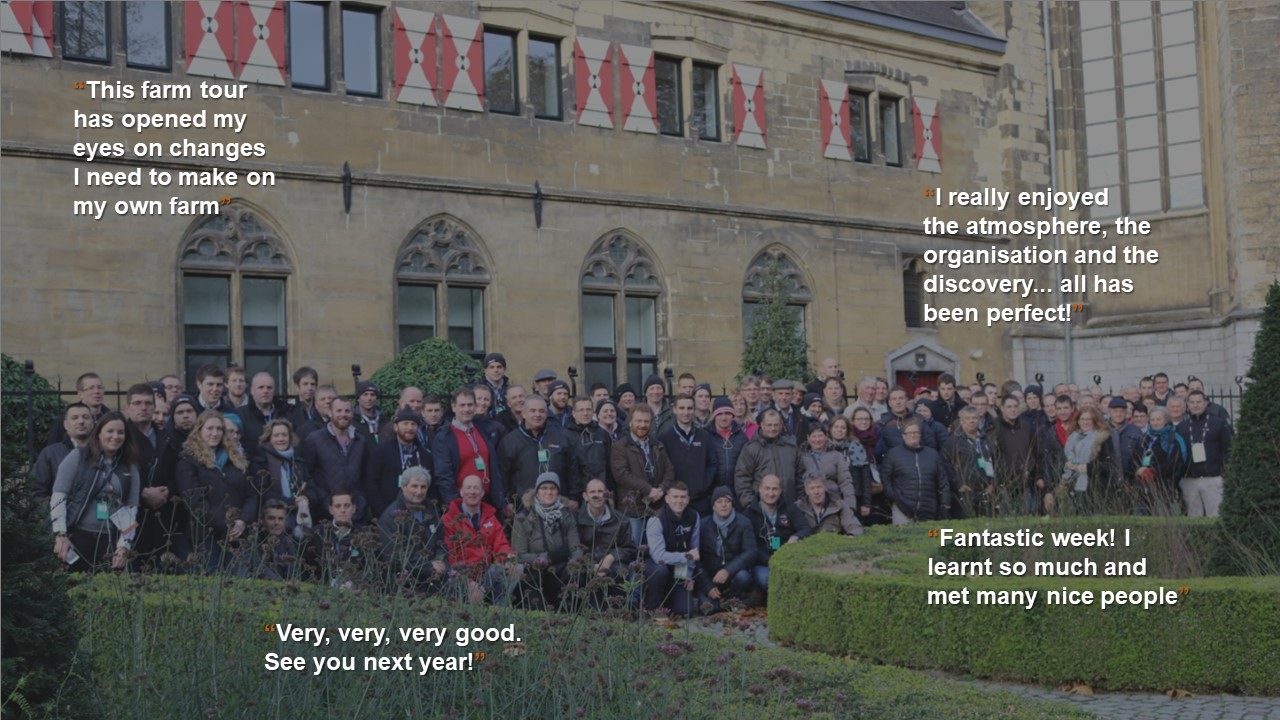 Itinerary at a glance
Monday, November 26

12:30 pm All attendees meet in Bologna, Italy for a welcome reception (arrive at Bologna airport no later than 11.30 am)

PM: Visit a dairy farm near Bologna

PM: Sight-seeing and dinner in Bologna

Tuesday, November 27

AM: Visit a dairy farm near Bologna

PM: Lunch

PM: Fly to Vatry, France

PM: Guided tour and tasting at a wine cellar along with an evening meal in Reims

PM: Check-in at hotel in Châlons-en-Champagne

Wednesday, November 28

AM: Visit two dairy farms in Saint Dizier, France

PM: Lunch

PM: Check-in at hotel in Sedan, France

PM: Evening meal at Hôtel Le Château Fort, a unique medieval fortress in Sedan.

Thursday, November 29

AM: Visit two dairy farms in the south of Belgium

PM: Lunch

PM: Fly to Dublin, Ireland

PM: Visit the Pearse Lyons Distillery in Dublin

PM: Evening meal in Dublin

PM: Check-in at hotel in Dunboyne, Co. Meath

Friday, November 30

AM: Farm visit

AM: Visit the Alltech European Bioscience Centre in Dunboyne

PM: Lunch

PM: Closing reception

PM: All attendees depart after 3pm. Transport to Dublin airport will be provided
Take a quick look at the farms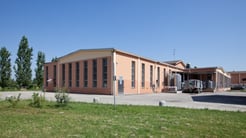 Farm in Italy: Located in Modena, in the heart of the famous Parmiggiano-Reggiano area. This farm is currently milking 1,100 dairy Montbeliarde X Red Sweden cows with an average milk production of 9,500 per cow per lactation. The farm is also using the latest technologies for herd improved performance such as a photoperiod system for improved pregnancy rates, and an indoor ventilation system based on the temperature humidity index (THI) measurement to ensure maximum cow comfort during hot periods which are common in this region.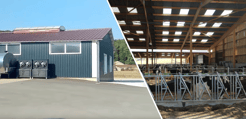 Farm in France: Located in the Brie De Meaux area in eastern France, this very impressive dairy farm has expanded significantly in the last 10 years and during that time has tripled milk production. The farm is currently milking 230 dairy cows, with an average milk yield of 10,000L/cow/lactation and a production capability of 2.3 million litres of milk per annum. Set on 485ha, cropping consists of 230ha of market crops such as wheat, barley and rapeseed, 100ha of maize, 50ha of alfalfa and the remainder is grass. Specific regulations apply to farming in the Brie De Meaux area, urea is not allowed in the diet, use of local fodder beet is advised, animals must have at least 4kg of dry matter (DM) in their diet and 85% of the diet must consist of local feed. Equally, there a number of rules surrounding the quality of milk and it's microbiological quality which requires detailed herd management.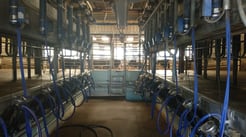 Farm in France: A family farm located in Ceffonds in the east of France with 80 dairy cows and 30 Charolais sucklers. There is also a small fattening unit on the farm. The milking herd has an average milk production of 9,500L/cow/lactation and a production capability of 780,000L per annum. The farm is set on 250ha of land, consisting of 180ha of market crops including wheat, barley and rapeseed, 30ha of maize and 40ha of grass. Following rapid expansion of farm, some of the current objectives for herd management include:
Optimising each aspect of production with a focus on milk solids and yield (genetic selection has been more focused on animal shape and structure in the past)

Set up a safe and solid environment for their son, before he joins the farm

Implement more mechanisation and comfort on the farm to improve labour efficiency and animal welfare (milking robot, manure scrapers, ventilation, cubicle mats)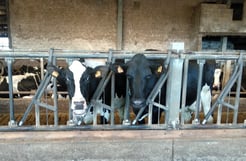 Farm in Belgium: Located in Franchimont, Belgium this farm is currently milking 145 Dairy cows with an average milk production of 11,680L/cow/lactation. For a farm with such high yield, the calving interval of 378 days is particularly impressive. One of the key strengths of the farm is it's herd genetics along with a strong focus on producing quality forages. Grass silage typically has a UFL value of +0.9UF and 20% crude protein (CP).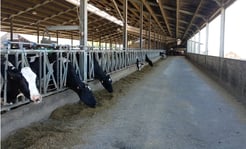 Farm in Belgium:Located in Mohiville, Belgium, this farm is milking 330 dairy cows with an average production level of 9,600 litres per cow per lactation. Total area farmed is 150ha, of which 80ha is owned land, with the remainder rented. Cropping consists of 95ha of maize, 5ha of fodder beet and the rest is grassland, with 5 cuts of silage taken each year from an English ryegrass sward. The farm has four employees ,and cows are milked three times a day. The current milking parlour is relatively small for this size of herd, but plans are in place to increase capacity. Heifers are reared on contract off farm, this has allowed the farm to focus on milk production, while the specialist heifer rearing contractor ensures that they are hitting the correct age and weight targets at first calving.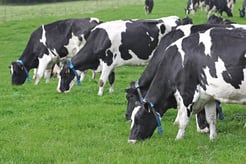 Farm in Ireland: Located in Co. Meath, this farm is split into three and all together is milking 890 Holstein Friesian crossbred cows. Milk production is averaging almost 7,000 litres and milk solids are at 530kg per cow per lactation, with 3.63% protein and 4.1% fat. The herd is based on seasonal calving with 70% calving in Spring time and 30% in Autumn. This is to supply milk all year round, while 90% of Irish farms would only calve in spring to maximize grass resources. They are farming over 600ha of land and the aim is to grow 16t of grass and utilise 14t. The farm has seen significant expansion in recent years with additional land being leased and new sheds being constructed.

Don't miss out, book your seat today!
Interested in joining this year's Alltech Euro Tour? Limited spaces are available and registration is on a first-come, first-served basis. The price is €1,300* (£1,165stg)
Book your seat today - speak to your local Alltech representative or call our office
Alltech Ireland: +353 (0)1 8252244
*This rate include flights, meals, hotels and transport while on the tour, based on sharing a twin room. Additional flights and transport to Bologna, Italy and home from Dublin, Ireland are not included however, the Alltech team can help to arrange bookings.
What to expect?
Alltech Euro Tour
November 26 - 30, 2018
#AlltechEuroTour
Register your interest