December 7, 3:00 p.m. EST – 5:30 p.m. EST
IMPRESSIVE
The Alltech Global Journalists Forum
Join Alltech for an important discussion on December 7 about the integral role of media sharing stories of agriculture and with other economy sectors, how we can all work together to build a world of abundance and a Planet of Plenty™. ImPRESSive is the opportunity to connect virtually with a panel of international influential journalists from Argentina, Brazil, Canada, Ireland and the USA.
* Simultaneous translation into Portuguese and Spanish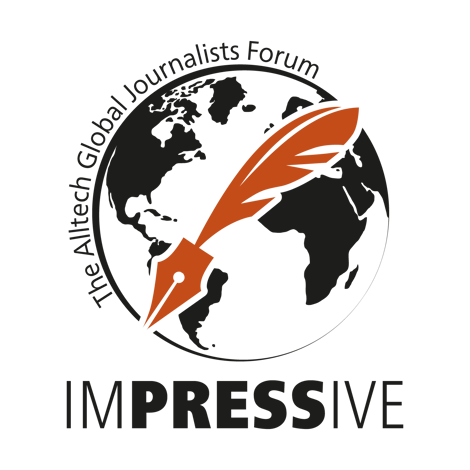 Hosted by

About the initiative:
Producers throughout the food supply chain are implementing smarter, more sustainable solutions to positively impact plants, animals, people and the environment.
Now, more than ever, it is important to give agriculture a voice and communicate these stories to the world. At Alltech, we have a vision for a Planet of Plenty, in which a world of abundance is made possible through the adoption of new technologies, better farm management practices and human ingenuity within agriculture, supported by our pillars of science, sustainability and storytelling.
SCIENCE
______________________________
SUSTAINABILITY
______________________________
STORYTELLING
______________________________
Owen Roberts is an agricultural communications instructor and faculty member at the University of Illinois. He is past-president of the 5,000-member International Federation of Agricultural Journalists, which represents journalists in 55 countries, and a senator in the Canadian Farm Writers' Federation. For more than 30 years, Owen was the research communications director and an agricultural communications instructor at the University of Guelph, Canada's Food University.
OWEN ROBERTS

Canada
Journalist and academic research in the Department of Agricultural and Consumer Economics at the University of Illinois. For over 10 years covered various agribusiness topics for the most prominent Brazilian media publications, such as Grupo Globo affiliates. She was recognized with almost 20 national and international journalistic awards.
JOANA COLUSSI

BRAZIL
Claire Mc Cormack is a Researcher in the field of Media Work and Agriculture at University College Dublin where she is currently completing her PhD having received a Government of Ireland Postgraduate Scholarship award from the Irish Research Council. Claire is also an Agricultural Journalist and regularly contributes to the Farming Independent and Irish Independent. Claire's journalistic background extends across both mainstream national media and the specialised agricultural press where she has gained substantial experience on several digital, print and broadcast platforms. Academically, she holds a Masters in Sustainable Agriculture and Rural Development from UCD, a Masters in Journalism from DCU, a Masters in Literature of the Americas from Trinity College Dublin and a BA in English and Sociology from Maynooth University. Claire also received the Veronica Guerin Memorial Scholarship to DCU in 2014.
CLAIRE MC CORMAK

IRELAND
Journalist, graduated at Federal University of Paraná. He worked at Ciência Hoje, cientific magazine and the Exame portal, famous business media in Brazil. He was reporter for Gazeta do Povo between 2008 and 2010 and returned to the vehicle in 2019, covering politics in Paraná. Since February 2021 he is editor of Economics. Throughout his career, he won the Paraná Award for Science and Technology, in the Scientific Journalism category (2012), and the Fiep Journalism Award, in the Internet category (2019).
CELIO YANO

BRAZIL
Steve Werblow is a freelance agricultural writer and photographer based in Ashland, Oregon, USA. He is a contributing editor for The Furrow magazine and vice president of the International Federation of Agricultural Journalists, which represents journalists and communicators in 55 countries. Steve has been honored as Writer of the Year three times by the American Agricultural Editors Association/Ag Communicators Network, and has received the guild's Photo of the Year award twice. Steve is a graduate of the College of Agriculture and Life Sciences at Cornell University.
STEVE WERBLOW

USA
Journalist and agricultural consultant specialized in the poultry sector with 30 years of experience. His radio program –Cátedra Avícola & Agropecuaria– has been on for 65 years without interruption. He was president of the Argentine Circle of Agricultural Journalists (CAPA) for 7 years and now is the general secretary of the International Federation of Agricultural Journalists (IFAJ).
ADALBERTO ROSSI

ARGENTINA
The journalists will be joined by senior leaders from Alltech, including:
Dr. Mark Lyons
President and CEO of Alltech (USA)
Dr. Mark Lyons grew up in the Alltech business, having traveled with his father and Alltech's founder, Dr. Pearse Lyons, from a young age to visit customers. With experience working in all regions and nearly all departments — from palletizing bags in production to researching in the lab — he has a deep and uniquely personal knowledge of the company.
Based on Alltech's belief that agriculture has the greatest potential to shape our world's future, he launched the Planet of Plenty™ vision in 2019. He has called for collaboration to improve nutrition, human and animal well-being, and the preservation of natural resources.
Paulo Rigolin
Vice president of Latin America at Alltech
Most recently, he was the strategy director for Latin America, a position he held since his relocation to Brazil in 2017, where he worked intensely on the integration of Guabi into the global Alltech feed division, as well as aligning the Alltech Latin America strategy.
Rigolin began his career with Alltech in 2001 as a sales manager, primarily working in Paraná, Brazil. He then moved to São Paulo, Brazil, for three years and worked as a national business manager for the Brazilian poultry team, where he served as the Allzyme® Vegpro champion in Brazil.
In 2008, Rigolin relocated to the United States to serve as the Allzyme® SSF and Allzyme Vegpro global product champion, covering Latin America, Asia, the United States and Europe. Rigolin then coordinated the global poultry team as global poultry director, focusing on poultry accounts worldwide.
He received his veterinary degree in 1998 in Presidente Prudente, Brazil, and specialized in marketing in 2000 at Fundação Getulio Vargas-São Paulo. He received his master's degree in business administration in 2006 from Fundação Getulio Vargas-Londrina.
Patrick Charlton
Vice president of Europe at Alltech and CEO of Alltech Coppens (UK)
Over the 30 years he has worked for Alltech, Charlton has held a number of roles, both regional and global, giving him a broad overview of the company and its global business.
He graduated from the University of Nottingham in the U.K. and joined Alltech U.K. in 1991, becoming the technical manager in 1995. In 1998, Charlton moved to Cape Town, South Africa, to become technical director for Alltech in Africa and the Middle East, working with customers throughout the region. Charlton took on the role of general manager of Alltech Canada in 2000, working with customers, consultants and researchers across Canada.
In 2005, he was promoted to global Bioplex® manager, responsible for all activities relating to the Bioplex series of organic minerals. He was appointed CEO of Alltech Coppens when the company was acquired by Alltech in June 2016. Today, the business is a fully integrated part of the Alltech family of companies and represents the leading edge of Alltech's global aquaculture development. Charlton currently lives in the U.K. and received a master's degree in fermentation and distilling from Heriot-Watt University in 2006.